What to expect on a Sunday Morning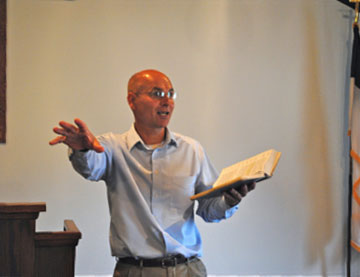 We are a group of people that love God and our neighbors. So when you come you will be welcomed warmly and feel the love of Jesus Christ.
You will notice that:
✓ the atmosphere is friendly
✓ the attire casual
✓ the worship joyful
✓ the preaching Biblical & helpful
The Pastor
Steve Van Slyke has been the pastor at Rice Creek Community Church since the fall of 2008. Steve grew up in the suburbs of Detroit and has been in Pastoral Ministry for over 25 years. He is a graduate of William Tyndale Bible College, where he received a Bachelor of Religious Education and Western Conservative Baptist Seminary, where he received a Master of Divinity. Steve is married to his wife Carol and they have 3 children. He enjoys reading, golf, being on the water, and traveling.
Our Vision
We exist to glorify God by:
by Celebrating the greatness of God, by Educating the people of God, and by Motivating believers to holiness, service, and evangelism.
---
We want to make our vision of Celebration, Education, Motivation a reality by:
having our public worship a celebration of joyful praise to our great God
having our education a clear and concise teaching of the Word of God
having our motivation flow from the example of Jesus in holiness, service, and evangelism